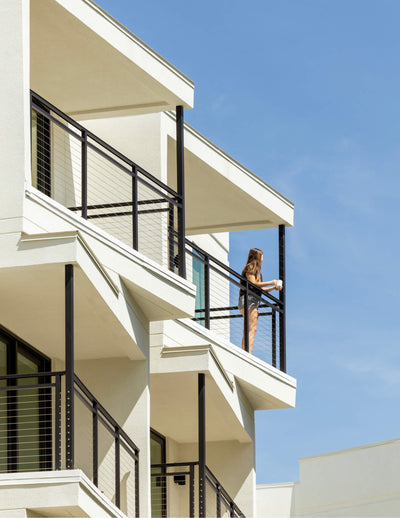 Summer 2022 The secret to installing 806 beds in less than 4 weeks
Client Core Spaces
Project HUB Tampa Florida
Install 4 weeks
Units 369
Bedrooms 806
Install 4 weeks
Completed August 2022
Our team successfully installed 806 beds in 369 units (one of our largest projects to date), along with custom built-ins like closet systems, open shelving, and banquettes, all within a tight 4-weeks.
Contents
Project overview
Common space @ HUB Tampa
This coastal-themed 4-story residence houses over 800 students in a range of studios to five bedroom apartments. It is located blocks from the University of South Florida.
Studio media stand
Scope
Qty.
Product
Bedroom
806
Beds & mattresses
10

Room divider closet systems

Closet systems

Living
318
Sofas
806
Coffee tables
293
TV stands
37
Open shelf systems
Dining
162
Kitchen islands
782
Counter stools
30
Banquettes
30
Banquette tables
Outdoor
72
Adirondack chairs
Total
3,346
Furniture pieces
Timeline
Step
Duration
Phase 1
Design
4 weeks
Materials sourcing
4 weeks
Phase 2
Overseas production
4 weeks
Domestic production
JIT
Phase 3
Overseas shipping
4 weeks
Domestic shipping
JIT
Phase 4
Install—July 2021
4 weeks

Result

Student move-in
Aug 2021
Install, install, install
HUB Tampa is a colossal complex. It is split into eight connected stacks with an adjoining 4 level parking garage which would serve as our staging space. We had a very tight window to pull off a job of this size and complexity.
One of the courtyards @ HUB Tampa
This job was a challenge for two main reasons:
Complex install sequence

Each of the stacks had to be installed in pairs from top to bottom before we could move on to the next. This differs from more standard jobs where you can install entire levels at a time.

Tight timeline

Construction delays pushed our start date hard up against student move-in giving us only 4 weeks to get it done.
One piece of the 318 sofas installed
A dialed in system
We used our proprietary install tracker to plan and track our work, and provide real-time updates throughout the project. Additionally, we hired a local install coordinator who assessed the property daily for install-readiness, and provided progress updates during the installation process to ensure nimble execution.
ROOMY install tracker in the field
No forklifts allowed
We had a dedicated receiving team for this project, and used our install tracker to determine the amount of product needed per level and area, and scheduled trucks accordingly. To work around point load and height limitations in the garage, we rented two pickup/trailer combos and used a round-robin system to ensure a continuous supply of products were available despite the need to transfer products from semis to the pickups and trailer by hand.
Bounce sofas stocked in the parking garage
Staying nimble
With careful planning in the weeks leading up to the installation, we collaborated with the client to create a schedule that allowed the contractors and waxing crews (a unique requirement for floors in this building) to work seamlessly alongside our team.
As with any construction project, unforeseen delays surfaced during the job. To keep things on track, our team met daily with the client, general contractor, waxers, and cleaners to devise a plan for the day. Our team's smart organization of stock in the garage by level allowed us to move quickly and efficiently from one area to another without wasting time on redundant product handling.
Garage striping
In the last week of the project, the parking garage had to be cleared for power washing and striping. We formulated a strategic plan to store our products in the hallways and install furniture in the residential units. This plan allowed us to efficiently complete the installation process, resulting in a timely project completion that exceeded our original schedule.
The design process
Moodboard for HUB Tampa
Like our Auburn University project, Tampa featured our updated 2022 collection which we custom designed for Core over a period of 3–4 months.
The design process was split into three phases.
Concepting

Given this was Core's inaugural custom collection we devoted quality time to this phase. We went through multiple rounds of mood-boarding followed by concepting for each product. Simultaneously, we spent time on material direction and sourcing. Throughout we worked closely with Studio K, the client's interior designer for this project.

Development

Once the initial designs were complete we worked with the client on color selections, material options, and dimensions for each piece. As they were dealing with inconsistent floor plans and space constraints, we not only designed the collection to be modular but also produced different variants to fit each unit.

Sample production

We then produced multiple samples for Core and Studio K to review in person. During this process we were able to value-engineer certain aspects of the products, and work out any kinks. Once samples were approved we moved to full production in early 2021.
Manufacturing & logistics
In 2021–2022, we confronted the most difficult global supply chain challenges in half a century. Furniture demand surged while production slowed due to labor and raw material shortages, in addition to a container shortage causing port backups. Nevertheless, we collaborated with our partners to secure materials, production, and container capacity well in advance. Despite delays, we received all overseas products 100% on time.
Replacement program
Make your investment go further.
Our pieces are engineered for longevity, but things happen ... especially in student living :)
For this reason, we design our furniture with replaceable components. This decreases your TCO (total cost of ownership), and it's better for the environment. For example, why replace an entire desk when you can replace the desktop?
Our reorders process is easy and transparent.
We also offer replacement logistics services from threshold delivery to full in-unit install and replacement.
Let's talk about your project
Book a meeting
We offer in-depth but low-pressure meetings to discuss your project. Our experienced team is ready to meet you via video chat—camera optional.
Live chat
We staff our live chat with specialists that know their stuff. Detailed questions welcome.
Mon–Sat 9am–5pm CT
Call or text
You'll connect directly, no pesky menus.
Mon–Sat 9am–7pm
Call: (844) 420-1333
Text us
Email
Sometimes you just need to put it in writing.
We'll respond in ~8 hrs.
info@heyroomy.com